Lies, Damned Lies, and Statistics
"Lies, damned lies, and statistics" is a phrase describing the persuasive power of numbers, particularly the use of statistics to bolster weak arguments. The term was popularized in the United States by (among others) Mark Twain in the 19th Century.
The Financial Services Industry and the Political Industry probably use Lies, Damned Lies, and Statistics more than any other industry to further their own agendas. Three egregious examples used by the Financial Services Industry are shown on this page.
Example #1
As a former American Association of Individual Investors (AAII) member, I was regularly subjected to AAII's promotions. During February 2010 I received the following promotion from AAII inviting me to subscribe to the AAII Stock Superstars Report (SSR):
James B. Cloonan, PhD, Founder and Chairman of AAII wrote: "I want you to know that the Stock Superstars Report (SSR) Maintains the Absolute Integrity you expect from AAII."
The Stock Superstars Report (SSR) Performance Update was enclosed. It claimed that the "Stock Superstars 12-month performance as of 12/31/09 is 30% greater than that of the market. Further, the portfolio has performed 10X better than the market since its inception in early 2002."
For the 12 months of 2002, the AAII's Stock Superstar's website reports a Superstar's gain of 0.5% vs. a loss of 21.0% for the Wilshire 5000 - the Total US Stock Market.
This is outstanding performance, but the problem is that the AAII Stock Superstars Report (SSR) was NOT available to subscribers until December 31, 2002. That means it would not have been possible for subscribers to realize the AAII Stock Superstar's outstanding returns during 2002.
Note that this is a well known strategy used by some mutual fund families, and it's perfectly legal. Here's how it works:
1. Register a new mutual fund with the SEC, but keep it secret from the public.
2. If the fund performs well, then open it to the public.
3. If the fund performs poorly, then terminate it.
A terminated fund and its underperformance disappear from the public record forever. However, if a fund performs well, then its outperformance becomes part of the public record. That's how some mutual fund families can claim their funds are above average. Don't you wish that you could make your underperforming investments disappear forever?
The Hulbert Financial Digest began tracking the AAII Stock Superstars Report (SSR) portfolio on December 31, 2002, exactly when it became available to subscribers.
The Hulbert Financial Digest is a digest that has been monitoring financial newsletters since early 1980. During 2010, Mark Hulbert and his squad of analysts monitored almost 200 newsletters in which more than 500 portfolios are included. Mark Hulbert writes regular columns on MarketWatch, a bi-weekly column for the Sunday New York Times and a quarterly column for the Journal of the American Association of Individual Investors.
How well did the AAII Stock Superstars Report (SSR) perform during the entire period during which it was available to subscribers?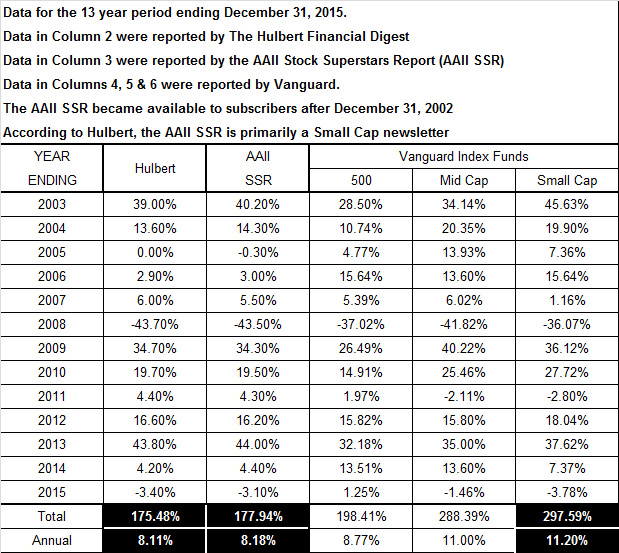 The February 2016 issue of the Hulbert Financial Digest was the final issue.
That means the table above will not be updated in the future, and it means that AAII and most other financial newsletter editors will be free to make outrageous claims without worrying about anyone monitoring their performance.
For 36 years Hulbert's message has essentially been that very few financial newsletters outperform appropriate indices, and it is simply not possible to identify those outperformers before the fact is known. That is, past performance is NOT an indicator of future performance.
Most investors are aware of that fact. Unfortunately during 2016 that knowledge meant that too few investors subscribed to Hulbert's digest to make the effort worthwhile.
Hulbert sold his digest to MarketWatch some time ago. He continued to edit his digest, but at that point he essentially became an employee of MarketWatch, and he is still a MarketWatch columnist. However, MarketWatch is in the business of promoting active portfolio management, and Hulbert's message is not quite as forceful as it was before he sold out to MarketWatch.
So it goes ...
Example #2
AAII continues to amaze me with behavior that is more reminiscent of confidence men than that
of an organization that promises to give its members "unbiased investment advice".
The following paragraphs were copied from an article in The Wall Street Journal
MARKETS
Some Tiny Stocks Are About to Surge
By JASON ZWEIG
November 7, 2015
Since 1993, AAII has tracked what it calls the Model Shadow Stock Portfolio. What happens to these two or three dozen stocks is fascinating — and holds lessons for all investors.
At the beginning of next month, a few tiny stocks may suddenly jump in price and trading volume. Behind the moves: the American Association of Individual Investors (AAII) 171,000 members.
Since 1993, the Shadow Stocks have returned an average of 15.6% annually, versus 8.7% for the S&P 500, according to AAII.
But not all its followers have matched that return — because most don't learn about the portfolio's latest trades until well after it makes them (and until well after the prices have increased).
Analyzing 169 stocks bought by the Shadow Stock portfolio, the WSJ found that trading volume in these stocks consistently peaked in the first four days after AAII disclosed they had been added.
However, unless you traded exactly when AAII did, you couldn't have matched the astounding performance of the Shadow Stock portfolio because the Shadow Stock Portfolio trades before AAII tells its members what it did. The portfolio gets to buy earlier than the people who follow it, giving its holdings a boost as soon as hordes of eager AAII members attempt to mimic the latest trade.
Example #3
William J. O'Neil is the legendary founder and publisher of Investor's Business Daily, and originator of the CANSLIM system. This famed investment system is laid out in his book, How to Make Money in Stocks.
His seven CANSLIM principles of investing are current earnings, annual earnings gains, new products, supply and demand, leaders or laggard performance, institutional ownership and market direction.
He was apparently rich enough to pour tens of millions of dollars of his own money into chasing The Wall Street Journal with his Investor's Business Daily, but because O'Neil's finances are private, no one had ever been able to track his results.
His New USA Growth Fund offered the best proxy to date -- and the results have been decidedly mixed. Certainly no one would accuse his New USA Growth Fund of being a growth business. He started the fund in 1992 and had attracted an impressive $170 million after just a month on the basis of his near-cult following. Five years later he had just under $200 million in assets when he folded up the fund in March 1997. He has never again attempted to publicly manage money.
Over the life of the fund, New USA Growth gained 90.0% versus 98.4% for all growth funds, ranking it 162 out of 276 similar funds tracked by Lipper Analytical Services. Over 1996 it was up 15.4% versus 18.3% for all growth funds, putting it at 498 of 705 growth funds.
This isn't the first time that O'Neil has tried and failed in the mutual fund business. His O'Neil Fund ran up big gains in the bull market of 1966-67 but crashed along with the market in 1968-69. When the market came back his fund didn't, and he sold it in 1975 with just $6 million in assets, down from a peak of $49 million.
The info above appeared in an article on thestreet.com titled IBD Chief Hammers Another Nail in Momentum Coffin. It was written by Joe Bousquin on 03/17/97